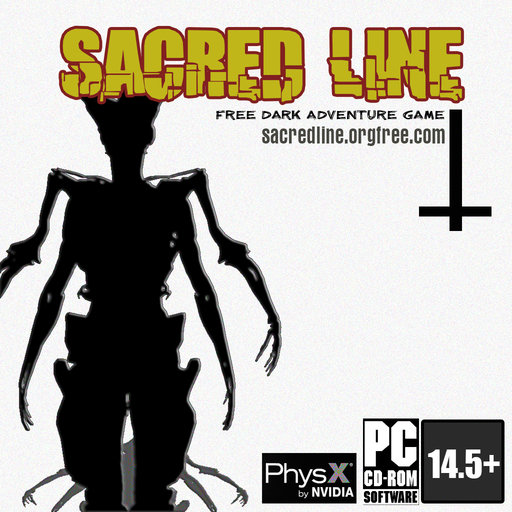 Sacred Line
is a free first person dark adventure/surreal thriller with story-driven explorative physics-based gameplay, black-white-red silent movie/BD style and multistructural abstract non-cliche plot. It takes its place in a fully developed universe where your main enemy is a union of third-world countries which is trying to set totalitarian regime over the whole planet polluting and destroying everything around them. In this game you will face their leader which was summoned by the ancient sect, dealing with unknown sources of power and paranormal activity.
This game has two endings, normal and secret.
You are playing Ellen, a private detective, who is trying to survive in Eastern Europe. Lately detective business, which she inherited from her missing sister Sarah, almost ceased its existence and one day before she was going to close her office she got an anonymous call. The unknown asked her to find some hidden forest outpost and told her about its position. That was just the beginning.
Current version is 1.2b Overhaul (released 27.02.13). New content, secret ending and update of graphics/physics plus bug/grammar fixes.
Final version (1.2c) in development and its main point is a optimization and additional polishing.
Japanese description
All donators will receive an exclusive Collector's Edition
which includes latest version of Game, Soundtrack (mp3 320kbps),
HQ Promotion/Development Images and Trailers in HD plus will get further support.
There's also an exclusive parody game mode which is currently in development
and will be available to play only for donators.

MacOSX:
(chmod 755)

via
Gamejolt
(rar)
via
Mega
(rar)
via
IndieDB
"chmod 755" it in terminal if it
doesn't launch.

Linux (32+64Bit):
(chmod 755)


via
Dropbox
(zip, fixed)
Set player's permission to
allow execution (either from a graphical file manager, or by chmod 755 myPlayer at the command line)








2013 © Sasha Darko. All rights reserved.

Windows 32Bit

via
Dropbox
(direct)
via
FreewareFiles
(direct)
via
Gamejolt
via
Softonic
via
Mediafire
via
Zippyshare




Operating system: Windows XP, Vista, Seven (649 MB HDD)
MacOSX (647 MB HDD)
Linux (724 MB HDD)

Recommended: Intel i5 or AMD Athlon II / 4GB RAM / 1GB Shader3 Directx 9.0 compatible video card

Minimal: 2 GHz Dual Core, 2GB RAM, 512 MB Shader3 DirectX 9.0 compatible video card

Windows 64Bit

via
Mediafire
via
GamesMonkey
If it crashes, download
32Bit one.

The game supports only 16:9 monitors and minimal resolution 1280x720.
Almost every object in game is physically interactive. You can drag a lot things using Left Mouse Button, glasses and walls are breakable.
This game is recommended to thinking experienced mature audience, fans of surreal/complex/mysterious but explainable plots.


W, A, S, D - Move
Space - Jump
Left Shift - Sprint
Left Mouse Button - Drag Objects / Read Notes (press again to close)
Flashlight - On/Off
Escape - Game Menu / Skip Cut-scene
Three tracks from soundtrack:
You can listen and buy (in FLAC) whole soundtrack here: